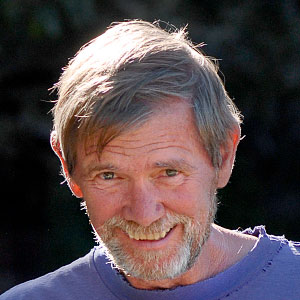 Good afternoon
We are here to honor and remember a great person and quintessential Ski Patroller, Dave Brown.
Dave Brown and Willamette Pass Ski Patrol were synonymous. You couldn't have had one without the other. He had his hand in many thing during his life, but one of the most important to him was the Willamette Pass Ski Patrol.
What did Dave mean to the Willamette Pass Ski patrol? Many things, as few others have contributed as much as Dave did to the Patrol's organization and leadership. Dave was the glue that holds volunteer organizations, like Willamette Pass Ski patrol, together.
Some of you newer members to our patrol family may not be aware of the impact Dave had on our ski patrol and Willamette Pass ski resort.
Dave joined the Willamette Pass Ski patrol in 1977 and his 41 years on the Patrol has left a lasting mark. Back when Dave joined the patrol there was one poma lift and two short rope tows. Over the 41 years on the patrol, Dave was the patrol director three times for a a total of 11 years. But Dave was really a great influence his entire time on the patrol. Rarely did Dave miss a patrol BOD meetings, always giving his sage advice to the patrol's new leaders. Let me see, a monthly BOD meeting over 41 one years, that is over 490 meetings. Now that is commitment! Few other people have had a greater impact on the Patrol than Dave.
Dave was an idea person. He came up with great ideas to improve the patrol for both the patrollers and the public to enhance our skiing safety and enjoyment. Dave's mantra about ski patrolling was always to have FUN. He was always there to help you whether you were on the hill or in town.
Dave had us thinking out side the box of new ways of doing things. From those ideas and under his leadership many new programs were created to help our Patrol. Ideas such as the Veterans program where a patroller could remain on the patrol, but with duties that suited their ability and interest. The Flex patrol was created under Dave's watch, again another way to help patrollers with a varied work schedule. Dave came up with many other ideas that the patrol implemented including our daily scheduling and patrol only parking area. For many years Dave kept our radio system working and current and was an OEC and CPR instructor.
One idea that Dave mentioned several times was a Patrol hot tub heated by the lodges diesel generators, this idea has yet to happen.
Perhaps one of Dave's and Kay Lee's greatest legacies is the SPY program. The Ski Patrol Youth program that Dave and Kay Lee started not only helped our Patrol, but also grew young patrollers, age 15 to 18, into leaders and people that would contribute to our society. Many of these SPY kids learned leadership skills and gained confidence in their abilities while in the SPY program. I think that if you were to ask a former SPY member what one of their greatest influences was when they were young, they would say Dave Brown and the SPY program.
Dave's legacy is in each of us who's lives were touched by him. What Dave leaves behind is the influence that he had in each of our lives to make each of us a better person.
We will miss Dave, but remember him always for what he meant to each of us and for what he meant to and did for the Willamette Pass Ski Patrol.
Fire and Ice - for Dave Brown
Year after year, without fail,
your fireworks displays explode across the lake
a riot of sound and streaming color, a cascading veil
of wonderment shared with all, to hear and witness -
the sky ablaze with a shimmering borealis,
your devotion taking sparkling form;
an ephemeral curtain drawn across the summer's eve
reflections etched across still water and night skies
your spirit willing to take risks so others
can revel in the free motion of fire and water
or the unmarked trails of winter's ice and snow.
a steady hand on the helm, piloting a safe course
so others can float free with abandon, with no fear
tracking the footprints as they disappeared into mounds of fresh snow.
unbidden service rendered beyond measure
a legacy revered and shared, a lasting respect set down in delicate traces
upon the snowy hillsides and smooth wake of a sailboat's hull
gliding across quiet water, white sails
touching the sky
you are Dave Brown.
you are David Brown.
~anon