The Hedeen years: 1969-72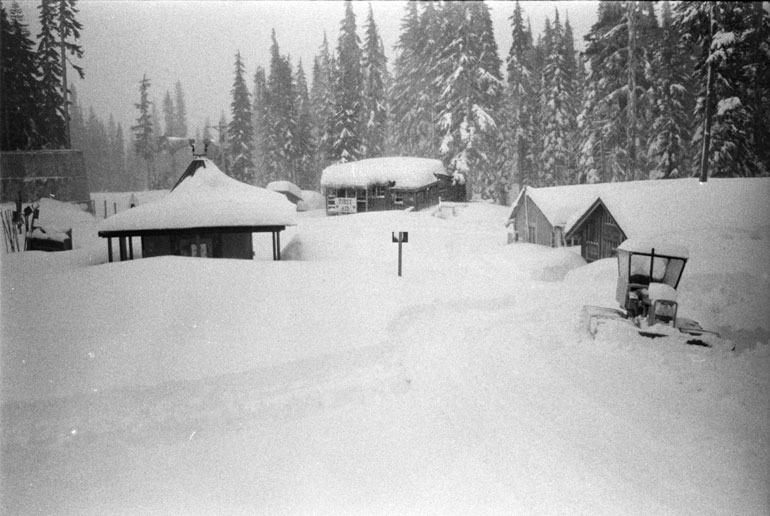 Base of Willamette Pass 1972 after heavy snowfall.
It has been a little known fact that Willamette Pass Ski Area may not have made it into the 1970s as a ski area, if not for the efforts of owners Keith Hedeen and Billy Willis, who had worked together previously in the automobile industry.
Hedeen purchased the ski area in October 1969 from the Eugene-Lane Teacher's Credit Union, and became president of Willamette Pass Recreation Inc. Willis was the minor stock owner of the corporation and was its vice president.
The credit union had taken over ownership in 1968 from a group of Cottage Grove teachers, who had more than their share of bad luck with low snow years and then a devastating washout of Highway 58 near Salt Creek. It took so long to rebuild the washed out highway that the season was a disaster and the area didn't recover.
Skiers had complained during that period to Ormand Doty, who was then the U.S. Forest Service ranger for the district, about sanitary issues at the ski area and other problems. By 1969, Doty was threatening to close the area for good and let it return to the forest.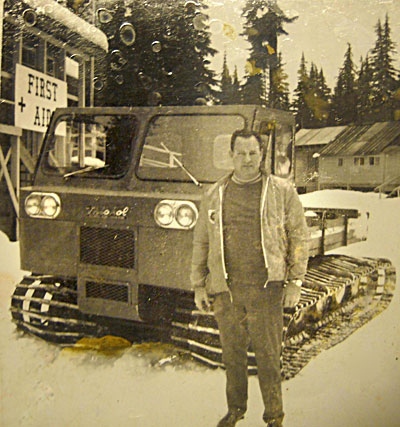 Billy Willis next to a snowcat in the early 1970's.
Hedeen and Willis headed off a potential permanent closure by putting together funding, purchasing the ski area's equipment and obtaining what Hedeen calls a "last hour" Forest Service permit to operate the area for the 1969-70 ski season.
A new cable was installed on the poma lift, and a new tow rope on each of four rope tows. The restaurant was operated by a contractor, and the ski shop was supplied with new rental equipment.
Fritz Printz, who had been hired by the credit union to serve as the ski area's manager during previous season, was retained by Hedeen and Willis to help smooth the ownership transition.
During the three years of Hedeen's ownership, he worked to improve the hill by removing obstacles. The U.S. Marine Corps – through efforts of the Willamalane Park and Recreation District – was commissioned to stage demolition drills at the ski area, blowing stumps and snags to make possible earlier openings with lower snow packs.
Highway 58 was again washed out by heavy rain during Hedeen's second year of ski area operation. But the Oregon Department of Transportation had stockpiled rock for future needs, so this time it took just a week to fill the void and create a one-lane road through the washout area.
Skiers were apprehensive about the road closure, but an ample snow year helped the operators recover much of their loss. Willis was made area's operations manager, while Hedeen was general manager of the restaurant contractor, ski schools and ski shop rentals and sales.
Hedeen's third year went smoothly, with full operation on holidays, weekdays and weekends, and a buyout of Willis's ownership share.
He sold the Willamette Pass operation to Hoodoo Ski Bowl in 1972. —
information for this account supplied by Keith Hedeen